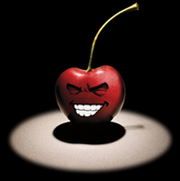 At the intersection of all musical styles sits a cherry.
Can you see him sitting there, basking in the glow of the spotlight?
He's a cherry with style. A cherry with attitude. A cherry with a wicked grin and sparkly white teeth. A cherry with a stem. And, most importantly, a cherry with an overwhelming love of music. ALL KINDS of music.
At any given moment, his Mackie THX-approved studio monitors might be playing Mozart, Johnny Cash, Pink Floyd, Marvin Gaye, Ricky Skaggs, Steely Dan, James Brown, Duke Ellington, Fountains of Wayne, Imani Coppola, J.S. Bach, Muddy Waters, Girlyman, Horace Silver, the Canadian Brass, Bob Marley, 'Weird Al' Yankovic, Led Zeppelin, Kirsty MacColl, BT, Freddie King, Barenaked Ladies, Aretha Franklin, Beethoven, Juice Newton, Collective Soul, Maryam Mursal, ABBA, Sugarland, the Beatles, Al Green, Tori Amos, Alice Smith, Citizen Cope, the Dixie Chicks, Gregorian chants, barbershop quartets....well, I think you get the idea. Music is an infinite canvas, and Mr. Cherry likes to paint with all the colors he can get his hands on!
And although he appreciates many, many different styles and genres, I'll tell you a little secret: this cherry has a particular weakness for thick harmonies and perfectly crafted pop songs. He tries to write music that has a strong, memorable melody, a hook or two that will get people to listen, and, if it serves the song (and sometimes even if it doesn't), a bunch of tasty, resonant harmonies. His working concept is to write really good songs and then get really good musicians to play on them, Steely Dan-style. Will his musical machinations work and deliver tasty tunes to the masses? Only time will tell...
So grab a seat, close your eyes, set aside all your preconceived notions about genres and styles and what you like and what you don't, and just.....LISTEN. Give it a shot. See what you think. And let Mr. Cherry know, good or bad. He doesn't care what kind of feedback it is, as long as it's honest.
Thanks for stopping by the website! Looking forward to hearing from you...